---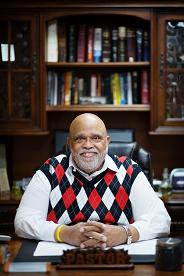 Apostle Evan T. (Tom) Watson, III, is senior pastor and founder of El Shaddai Ministries, located at 920 SE Sherman in Topeka, KS, and has served in that capacity since March 1997. Pastor "T," as he is affectionately called, is responsible for the spiritual care of a congregation that has grown from just 11 faithful members to over 500. Since 1999, El Shaddai has been blessed to serve thousands of individuals and families with food and clothing through its community outreach center.

Since 1997, the El Shaddai church family has grown and completed four (4) building projects, established a substance abuse recovery ministry, community redevelopment arm, Christian education, a youth ministry which takes great pride in their Tuesday night youth services, and is currently broadcasting our services via livestream on the internet. Pastor "T" often says that, "Our more than enough God is just as big and able in east Topeka as He is in west Topeka." Therefore, under his direction, the east-side visionary has completed construction of a state-of-the-art $1.6 million worship center adjacent to our present facilities.

In 1979, Pastor "T" was called into the ministry and was ordained in 1982 by the late Bishop I.B. Brown. Prior to founding El Shaddai Ministries, he was an assistant pastor at Faith Temple Church of God in Christ. As general contractor, Pastor "T" played a key role in the construction of their new sanctuary and family life center. He served at Faith Temple under the leadership of Bishop R.K. Lassiter for 20 years.

In July 2005, he was appointed by Bishop B.H. Cunningham, Jurisdictional Prelate, to the position of Superintendent of the Great Northern District of the Kansas Central Jurisdiction of the Churches of God in Christ. In that position, he oversaw the spiritual and temporal affairs of seven (7) area churches. In July of 2006 he was appointed to the position of Administrative Assistant to the Jurisdictional Prelate, Bishop B. H. Cunningham. In June of 2010, under the leading of the Lord, Apostle Watson retired from those position in order to devote his time and energy to developing the people God was adding to the ministry.

Prior to becoming a minister, Pastor "T" primarily worked in the construction industry where the Lord honed his building skills. He is proficient as a heavy equipment operator, carpenter, welder, and cement finisher. He has worked as a supervisor in asphalt, concrete, and building trades. He was employed with the City of Topeka Public Works Department for 15 years where he served as Section Manager for the Street Division, before retiring in 2003. He received many commendations in his tenure with the City and in February 1999, he was nominated and accepted into the Leadership Topeka Class of 2000. In 2005 he was presented with the African American Male Leadership Award and in 2006 he received the Religion Award from Living the Dream, Inc.

Pastor Watson is a United States Navy veteran, a past member of the American Public Works Institute and a past member of the Operating Engineers Local 101. He has held numerous certifications in both. He is a member of the Network of Local Churches led by Apostle La Fayette Scales, Columbus, Ohio. Pastor "T" earned his Masters of Ministry from the Christian Bible College and Seminary in Independence, Missouri, and earned his Doctorate of Pastoral Ministry in 2007. Pastor Waston acknowledged the apostolic call on his life in 2007 and was consecrated to the office of apostle by Apostle La Fayette Scales on March 21, 2010.

Apostle Watson resides in Topeka, Kansas and has been happily married to Lady Doria Watson for over 35 years. They have 4 sons, 1 daughter, 18 grandchildren and 1 great-grandchild.