Pastor T's Monthly Challenge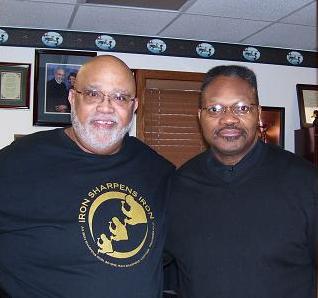 Greetings Brothers,
This is an exciting time for the church….the family of God! There are great opportunities for those who are kingdom minded to move forth the Father's agenda here in the earth. There are lots of hurting, lost, and misguided people who are looking for hope…answers to the dilemma they find themselves in. I believe the answers they are looking for can be found only in one place…a relationship with the Father initiated by the acceptance of His Son Jesus as Savior. I purposely did not say the church because I believe that the church…His church …is still being defined here in the earth. The exciting part of this is that you get to be a part of what that church is supposed to look like. I believe God has assembled, and is yet assembling, one of the finest ministries in the nation right here in Topeka …not because of me but because of you. You…if you take advantage of the learning experiences offered through the ministry, you will be as Ephesians 4 speaks of "equipped for the work of the ministry". Godly men….great husbands…fathers…and community leaders. The thing that the enemy tries to use to disrupt a move of God like that is most frequently disunity. So with that in mind… and understanding disunity flourishes in an atmosphere where our human will reins supreme…which is really just an issue of control…who is in control… I am challenging you to do everything possible to protect the unity of our faith and the unity of the EMSCC family. How? By becoming servants in our homes…in our churches and our community….by submitting our human wills to the Father and giving Him full control of our hearts, our lives and our assembling together. Join us in this great endeavor…becoming men after God's own heart…become a living and breathing example of what God can do with men who will follow Him.
John 17:21-23
21 that all of them may be one, Father, just as you are in me and I am in you. May they also be in us so that the world may believe that you have sent me. 22 I have given them the glory that you gave me, that they may be one as we are one: 23 I in them and you in me. May they be brought to complete unity to let the world know that you sent me and have loved them even as you have loved me.
NIV
We have been granted a great privilege to serve you,